On January 7, 2022, Midea Group awarded Foshan Gaoming Gaosheng Aluminum Co., Ltd. the outstanding supplier medal. The medal symbolizes Midea Group's recognition of Goldman Sachs Aluminum's products and product quality, and also symbolizes the 30-year partnership between Midea Group and Gaoming Gaosheng Aluminum Co., Ltd.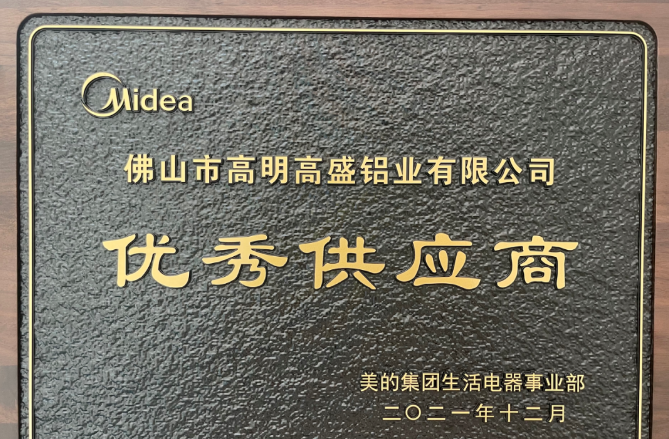 Outstanding Supplier Medal From Midea
Gaoming Gaosheng Aluminum Co., Ltd. is located in Cangjiang Industrial Park, Mingcheng Town, Gaoming District, Foshan City, Guangdong Province. It specializes in manufacturing electric heating accessories for household appliances and industrial use, and aluminum rods, such as aluminium heating plates, multi shaped stainless steel pipe, iron electric heating tubes, etc., 6061 Aluminum rods and 6063 aluminum rods. The heating plate is the main heating accessory for electric rice cookers, pressure cookers, and hot pots. Stainless steel electric heating tubes are used in air fryer, oven, dishwasher, washing machine and other household appliances.
Gaosheng is one of the important suppliers of domestic well-known household brands, such as Midea, Supor, etc., and foreign brands such as CUCKOO from South Korea and Zojirushi from Japan. Gaosheng has accumulated a wealth of research and development in the application of new technologies, continuously improving manufacturing technology and product performance, and always upholding quality first to ensure the best safety, reliability and durability to meet the needs of customers around the world.
CONTACT US


Foshan City Gaoming Gaosheng Alum Co., Ltd.
We are always providing our customers with reliable products and considerate services.
If you would like to keep touch with us directly, please go to contact us